Ushering in a new year can be exciting, but somewhat stressful with so many New Year's resolutions being bombarded at you.  Committing yourself to a new goal can be intimidating, but it doesn't have to be! If you're aiming to be less stressed, more flexible and develop a healthy new hobby, then yoga might be the perfect resolution for you.
Yoga has many health benefits — physically and mentally.  Easing stress, anxiety and chronic pain are just some of the many benefits that yoga can provide.  If you think this sounds like something you'd want to try in the new year, Lake Norman has plenty of spots that offer classes or just a peaceful place to practice.
Combining the relaxation of being out on the water with calming yoga poses, Aloha Paddle Sports in Cornelius provides Stand Up Paddleboard yoga classes ranging from beginner to more advanced. Participants will go through different yoga poses on a paddleboard out on Lake Norman.  Don't worry, even if you fall it's impossible not to enjoy this unique class.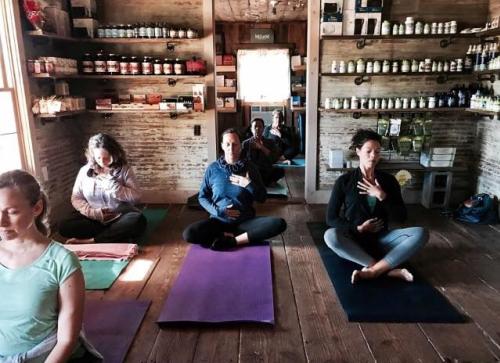 Like your yoga with a side of cozy surroundings and organic foods? The Bradford Store in Huntersville offers weekly yoga classes for all levels.  Afterwards we definitely recommend browsing their shelves and picking up some delicious farm fresh produce!
For yoga in a more traditional classroom setting check out the variety of classes offered at The Bindu Yoga and Gotta Yoga Studio in Cornelius to Yoga On Davidsonas well as the Melting Pot Hot Yoga in Huntersville.  These classes are perfect for those interested in learning all about breathing techniques, poses and stretches that go along with practicing yoga.  You can also choose between classes that focus on different techniques and paces.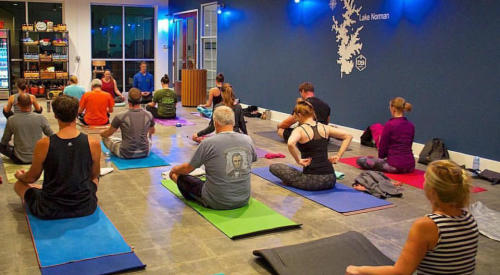 Beer and Yoga? Why not! Every week D9 Brewing Company in Cornelius hosts a yoga class inside the brewery. This is a great way to get out, meet new people and decompress with yoga and craft beer.
Keeping resolutions throughout the whole year can be challenging but we hope the places above help you maintain a healthy lifestyle all of 2019. Feel free to share with us your yoga experience and any other locations that we may have missed